With rising inflation and increasing uncertainties worldwide, saving money is more important than ever. We share a mix of simple and advanced tips you can consider to save your money more wisely.
1. Track Your Expenses & Plan Your Budget
You might often find yourself spending money without remembering what you actually spend on. This might lead to overspending and spending more than you can afford to.
By tracking your expenses, you can prevent overspending by being able to check the areas which you spend the most money in and how your spending habits are evolving over time. Using this information, you will be able to plan a monthly budget for how much you wish to spend each month and set aside the remaining amounts as savings for the future.
Many banks in Singapore now offer customers different ways to track their spending digitally so you do not have to do it yourself manually.
For example, DBS's NAV planner allows you to track how much you are spending in various categories. Using the app, you will be able to see your monthly cash inflows and outflows and plan how to distribute your income across expenses, savings, insurance and investments.
2. Separate Your Wants & Needs
If you find yourself making bad financial decisions, it may be helpful to distinguish between your wants and your needs. Depending on your financial position, you may have to sacrifice certain wants which you can do without.
For instance, instead of taking a Grab to work every day, you can cut down on your travelling expenses by getting up slightly earlier and taking public transport. Alternatively, if you find yourself eating out often, you may cut down on your meal costs by learning how to cook and preparing your own meals.
By making slight adjustments to your lifestyle, you will be able to reduce a lot of frivolous expenses and put yourself in a healthier financial situation.
As a general rule of thumb, you can follow the 50/30/20 rule to control your spending and plan your budget.
The 50/30/20 method suggests that you spend 50% of your income on needs such as car loans, household bills and insurance, 30% on wants including travel, shopping and dining out and the remaining 20% on savings.
If you find yourself spending too much on your wants, it may be time to cut down on your spending and put your money to better use by saving for the future.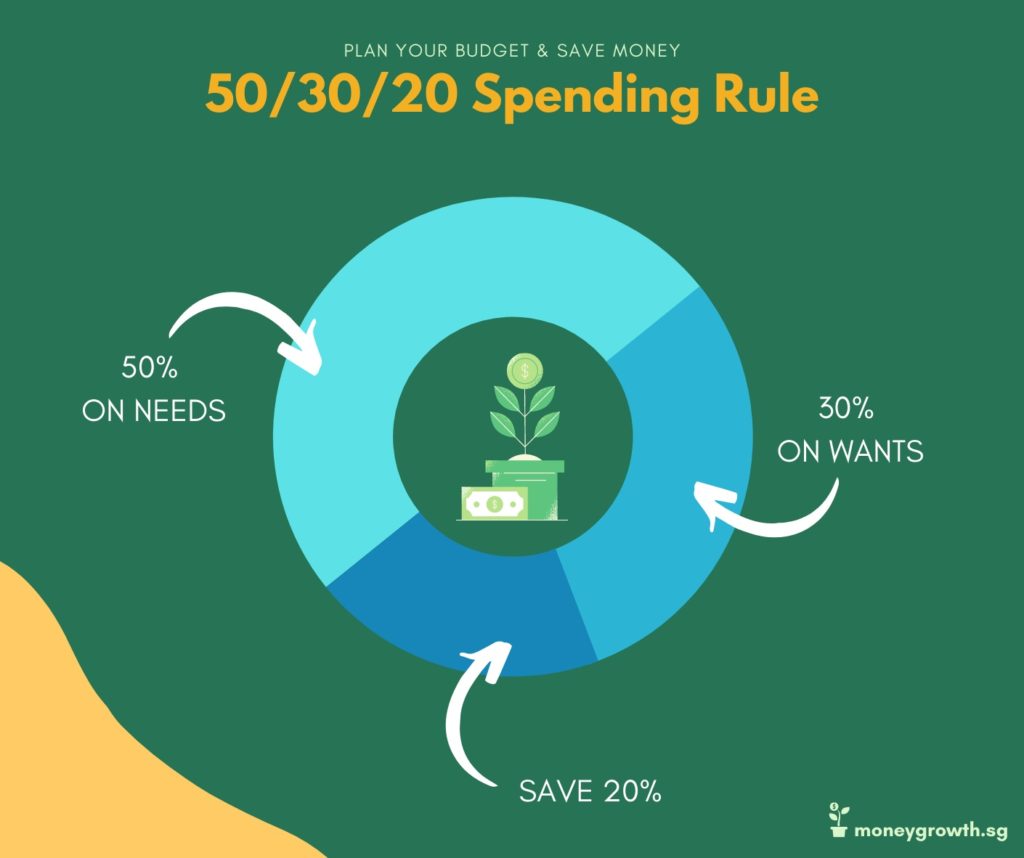 3. Use Coupons & Discount Vouchers
Hunting for the best bargains and discounts is a famous Singapore pastime. Many businesses such as Grab, Lazada and FoodPanda often offer customers discount codes and vouchers for online purchases. By using these free promo codes, you can save on a few dollars each time you make an order online.
You should also check out food discount apps such as Burpple, Chope and Fave which offer one-for-one deals and other vouchers to reduce your dining out expenses.
When you do your shopping online, you can also consider using cashback sites such as Shopback which provide customers a cash refund whenever they make a purchase through the site or app.
4. Thrift Shopping & Second-Hand Items
A common misconception about second-hand items is that they are out-of-fashion or of poor quality. However, if you search hard enough, you will often be able to find high quality items selling for half the price!
Thrift shopping has also been on the rise lately as it is eco-friendlier and more sustainable for the environment. Therefore, by purchasing second-hand items, you can kill two birds with one stone, reducing your expenses but also practicing sustainability.
Apps such as Carousell provide a marketplace for second-hand goods if you are looking for good deals at a bargain price.
5. Set Saving Goals
One of the best ways to save money is to set a goal. By doing this, you will have a clear plan of how much money you need in the future and can start taking practical steps to save money.
Common short-term goals which you can plan for include starting an emergency fund, going for a vacation or paying your credit card debt. If you are planning further ahead into the future, you can start planning for your next property, your child's education or even retirement.
6. Clear Your High-Interest Debts ASAP
If you have high-interest debts such as student loans or certain credit card bills, it may be wise to prioritise these debts before spending on other luxuries such as travel and shopping. Doing so can reduce your financial burden and help you avoid paying high interest expenses in the future.
If you have a property loan, you might also want to consider paying off the loan early if you have sufficient savings. From an investment standpoint, your savings should be generating higher returns than the loan interests you are paying. If not, you are simply paying more for the property which will eat into your profits if you plan to sell your house in the future.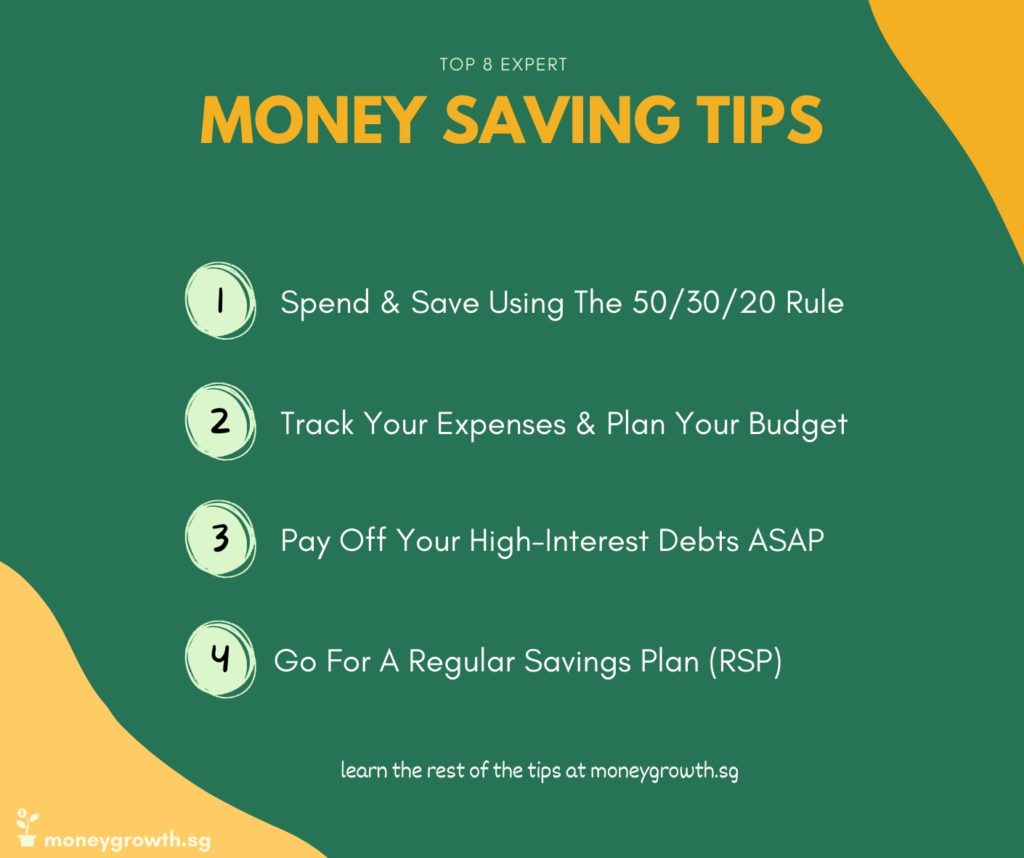 7. Review Your Insurance Policies
Sometimes you may find yourself spending too much on unnecessary insurance coverage. On the contrary, you also do not want to fall into a situation where you are spending too little on insurance and do not have adequate coverage.
Contact your Financial Advisor to review your insurance policies and ensure that you are paying for the right amount of insurance coverage based on your financial situation and requirements.
8. Get A Regular Savings Plan
Turbocharge your habit of saving regularly by investing a fixed amount of your savings monthly with a Regular Savings Plan (RSP). It can seem confusing at first since RSP contains the word "savings but a RSP is actually more akin to a monthly investment plan.
If you find it difficult to save a portion of your income every month, a RSP can help you budget your finances and cultivate the habit of not just saving but also investing regularly.
Many banks in Singapore offer customers the option to sign up for a regular savings plan. For example, DBS Invest-Saver is a RSP from DBS that allows you to invest from $100 monthly.
Additionally, you should deposit your savings in high-interest accounts to earn as much interest on your savings as possible.
Conclusion
In this article, we have shared eight money saving tips which you can utilise to reduce your expenses and plan for your future. As the saying go, it is better to start early than to start late. By starting early and adopting good saving habits, you will be able to transform your life and achieve your financial goals faster.