CareShield Life is a long-term care insurance plan administered by the Singapore government. This is unlike Eldershield, which is administered by private insurers.
The policy is deductible from Medisave. There are also CareShield Life Supplements which provide additional benefits on top of the basic CareShield Life plan.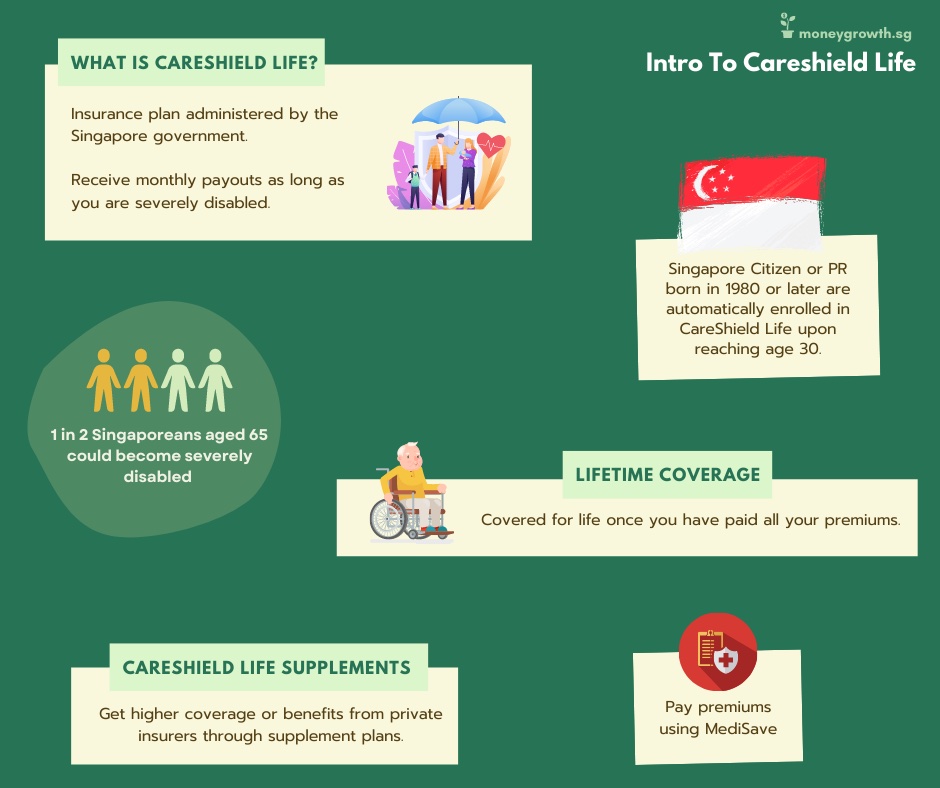 What is the possibility of being disabled?
The Ministry of Health estimated that 40% of men and 60% of women will become disabled in their lifetime. The difference between men and women could be partly due to women having a longer life expectancy.
Under CareShield, Severe disability is classified as being unable to perform at least 3 out of 6 Activities of Daily Living (ADL). The six activities include bathing, dressing, feeding, going to the toilet, moving around and transferring.
There is also evidence that if we define disability as needing assistance for 2 out of 6 ADLs, the chance of disability is a third higher. That is 52% for men and 80% for women.
What is the life span of the disabled person?
As life expectancy increases, ill-health or disability figures will also rise (the Burden of Disease in Singapore 1990-2017 Report17). The report shows that Singaporeans born in 2017 are expected to spend ten years in poor health over their lifetime, compared to 9 years for those born in 1990. Hence, the increase in the number of years lived in ill health or disability is relatively slower than the improvement in the life expectancy.
So what is Careshield Life?
CareShield Life is a long-term care insurance plan administered by the Singapore government.
CareShield Life includes basic coverage for long-term care expenses due to severe disability.
Life coverage even after you have completed paying all premiums.
Monthly cash payouts
You will stop receiving payouts upon recovering but you may start claiming again upon another severe disability.
All Singapore Citizens and Permanent Residents in 1980 and after, are included mandatory under CareShield Life scheme) on 1 Oct 2020, or when they reach 30. Those born before 1980 can choose to convert to CareShield Life if they are not severely disabled.
To make a soft transition, Singapore Citizens or Permanent Residents born between 1970 and 1979 (both inclusive), insured under the ElderShield 400 scheme and not severely disabled, will be auto-enrolled onto CareShield Life from December 2021.
Advantages Of CareShield Life
1. Monthly Cash Payout In The Case Of Severe Disability
The payout is set to rise by 2% per year from 2020 to 2025. The increments after that will be determined by the CareShield Life Council, which considers each case according to changes in life expectancy and disability forecast.
Once an approved claim is made, your monthly payout amount will remain at a fixed amount for the duration of your severe disability.
The coverage is international and for life. It will commence once premiums are made till its completion at 67 years old. And the coverage will remain for your lifetime.
2. Use MediSave To Pay Premiums
You can use your own Medisave or your family members' MediSave to pay for the premiums. Premiums are payable year until you are 67 years old or ten years after joining the scheme, whichever is later. Premiums are waived once you make a claim successfully.
3. Government Subsidies & Support Measures
You may apply for premium subsidies and support measures from the Government. Additional Premium support is given to those who cannot afford the insurance premiums.
These government premium subsidies and support measures ensure that CareShield Life premiums remain sustainable for all Singaporean. No one will miss out on their CareShield Life coverage because of the inability to afford their premiums.
4. CareShield Life Supplements
You can consider buying optional CareShield Life Supplement plans from appointed private insurers for additional benefits to enhance your coverage.
Important features:
Offers enhanced benefits (e.g. higher monthly payouts) on top of the basic ElderShield or CareShield Life
Administered by private insurers
Medisave limit of $600 per year for premium payment per person
Find out more about upgrading your CareShield Life using supplement plans through our special write-up on CareShield Life.