Being a new parent is not easy and comes with many responsibilities. You might find yourself waking up in the wee hours of the morning to put your baby back to sleep or changing their diapers and feeding them every few hours.
In addition to these everyday responsibilities comes the responsibility of ensuring your newborn is well protected in the event of an accident or illness. Given that newborns require extensive caregiving, parents should not overlook the need to purchase insurance for their babies.
In this article, we explain why it might be better to cover your newborn at an early stage of their life as well as share the type of insurance plans you can consider getting for your newborn.
Advantages of purchasing insurance for your newborn
1. No Pre-existing Conditions
Most insurance policies exclude pre-existing medical conditions before the policy is in effect. As most babies are born with a clean bill of health, they are unlikely to suffer from pre-existing conditions which would be excluding from insurance coverage.
However, if you decide to hold out on buying health insurance for your newborn, there could be a risk that they develop an unexpected illness in the future. Thus, by covering your baby at a young age, you will be providing them with maximum coverage from a health perspective and ensure that they are well protected in the event of an unexpected illness.
2. Lower Premiums
Generally, the younger you apply for an insurance policy, the lower the amount of premiums you will have to pay. This is because as you age, the risk of developing chronic illnesses is higher which translates to higher costs for the insurer.
Therefore, by purchasing insurance for your newborn, you can save on insurance premiums while at the same time ensuring that you will be able to afford medical treatment should your child suddenly develop an illness. In addition, you may use your MediSave funds to purchase an Integrated Shield Plan for each child.
3. Peace of mind
As a parent, ensuring your child is well protected is a top priority and area of concern. Purchasing insurance for your newborn can help to provide a peace of mind and alleviate parental stress about your child's health. Since we know raising a family can be stressful, finding ways to reduce your stress can go a long way in providing you a better parental experience!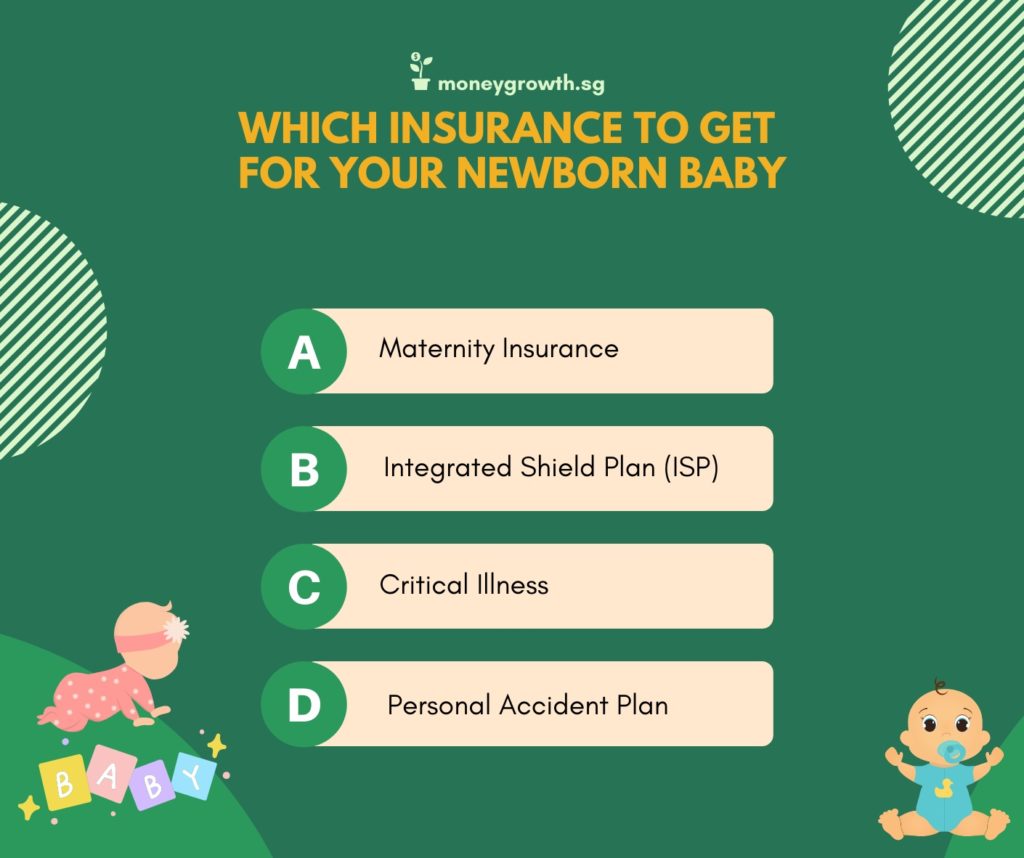 Types of Insurance Plans to Purchase for your Newborn
1. Integrated Shield Plan (ISP)
Think of ISPs as an upgrade to MediShield Life. While MediShield Life covers all Singaporeans and Permanent Residents (PRs) from birth, ISPs provide additional insurance coverage for higher-class wards in public and private hospitals and also the bulk of the cost of medical treatments during hospitalisation.
Since newborns have yet to build up their immune system, they are vulnerable to contracting illnesses and thus may require more serious medical attention. Therefore, an ISP can help to cover a large proportion of hospitalisation charges should your child suffer from a serious illness.
Do take note that to be eligible for an ISP, your baby has to be at least 15 days old or discharged from the hospital for the first time, whichever is later.
2. Maternity Insurance
Maternity Insurance, also commonly known as Pregnancy Insurance or Prenantal Insurance provides coverage for both mum and child throughout the course of pregnancy, and even shortly after birth. It offers a lump-sum payout or daily hospital cash benefit to offset medical costs incurred in the event of a complication.
Buying Maternity Insurance to supplement your existing health insurance plans will enable you to have a more comprehensive safeguard in place for your family as it will offer additional coverage and benefits such as the following:
Pregnancy Complications
Congenital Illnesses
Mental Wellness Care
Hospital Care Benefits For Mum
Hospital Care Benefits For Baby
3. Critical illness
Regardless of age, your child might develop a critical illness at any point in their lives. While ISPs cover the bulk of the treatment costs during hospitalisation, you may want to purchase critical illness insurance to provide a lump sum payout in the event your child suffers from a critical illness.
This lump sum can be used to cover the costs of alternative treatments, medication and home care arrangements.
Life insurance plans which includes critical illness coverage comes in two forms, namely term life and whole life insurance.
Weighing the two options, whole life insurance may be better for your child in the long run. For most whole life plans, premiums are paid for a limited period of around 20 years but the coverage will last a person's lifetime.
On the other hand, term life insurance plans are more affordable and have lower premiums. However, you would have to continue paying the premiums for as long as you desire the coverage for your child. To reiterate an earlier point, it is better to get insurance for your child at a young age as the premiums are lower and the coverage is greater.
4. Personal Accident Plan
As children can be clumsier than adults, there is a high probability that they get into accident or suffer an injury.
Personal accident plans provide coverage against potential accidents, sickness and injuries and can be used to offset medical expense, paediatrician fees and accommodation costs.
These plans are a handy complement to other existing health insurance policies that a person might already have. For example, if your child sprains his ankle playing football, he may not require hospitalisation but may still require X-rays and MRI scans and other treatment. Personal accident plans can help to cover some of the out-of-pocket medical expenses which are not covered under regular health insurance.
Specifically for young children, you might want to buy coverage that protects them against highly infectious illnesses such as Hand, Foot & Mouth Disease (HFMD) which is highly transmittable among young children.
Conclusion
In this article, we suggested why it is better to purchase newborn insurance for your child as it can help you to save on premium costs and provide maximum coverage for your child against future illnesses.
There are a few types of health insurance which complement each other to protect your child in the event of an unexpected illness or accident. By purchasing these these types of insurance, you will be able to enjoy a peace of mind and not have to worry about your child falling ill.